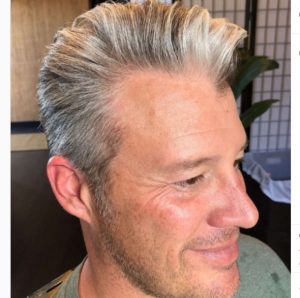 So you go to a chop shop, you wait on a bench with a bunch of other guys for a half hour-fourty five minutes, ya get plunked down with a newbie stylist and they say "What's your number?" "Two or three." you reply. Please don't take too much off the top.
Out comes the clipper heads… buzz, buzz, buzz. Ten minutes later you're heading to the front desk to pay your ten bucks and head out the door. You didn't think about it much, it didn't cost much… It's maybe a little short on top but you can live with it. The whole thing was like gassing up your tank, grabbing lunch at Mcdonalds or doing a Costco run. Just another thing you had to do. Still, you catch yourself in the rear view mirror as you're pulling out and sometimes you wonder…"Could there be a better way?"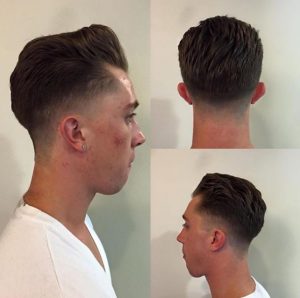 A haircut is either a hassle or an experience. It's something you have to check off the list or something you look forward to. If you're the guy looking for the fastest and the cheapest… I don't know why you're reading a blog about men's grooming. You should be sitting on a bench with a bunch of other guys in some random strip mall chop shop. If on the other hand you're the experience guy (or a wife or girlfriend looking for an experience for your guy)… you've found your place.
Here at Hair By Joey men's salon Prescott we're all about the experience. Our stylists are trained to slow down, ask questions and even more importantly… make suggestions. You repair cars, write briefs, hustle real estate etc… you don't know what haircut would best suit your look… that's our job. We don't just do a numbered clipper guard. We do nuance. We do crafted scissor cuts, precision fades and perfect layers. We can do rockstar long and we can do military skin fades with the same level of expertise. We take our time. We get it right. At HBJ, you don't wait on a bench looking at your watch every 10 minutes, praying you don't get a rookie. Here you book with the stylist you want. You reserve your private moment of peace. You walk in and we're ready. Want a massage? We offer a complimentary state of the art mechanical massage chair that will blow your mind. Thirsty? We include gourmet coffee, craft beer or exotic teas with every service. Want privacy? We have a space where you feel like a celebrity…upscale, quiet, clean, relaxing.
Our clients become our friends. It's just how we roll. We get to know our guys. We read people. Whether it's conversation or quiet you like while you're getting styled and dialed… we read you and respond. We love what we do… and we'd like to do it for you. You show up to slow down and be taken care of for a moment in your busy life…the perfect haircut is just what you walk out with. To book your experience today…. click here. You'll be glad you did.